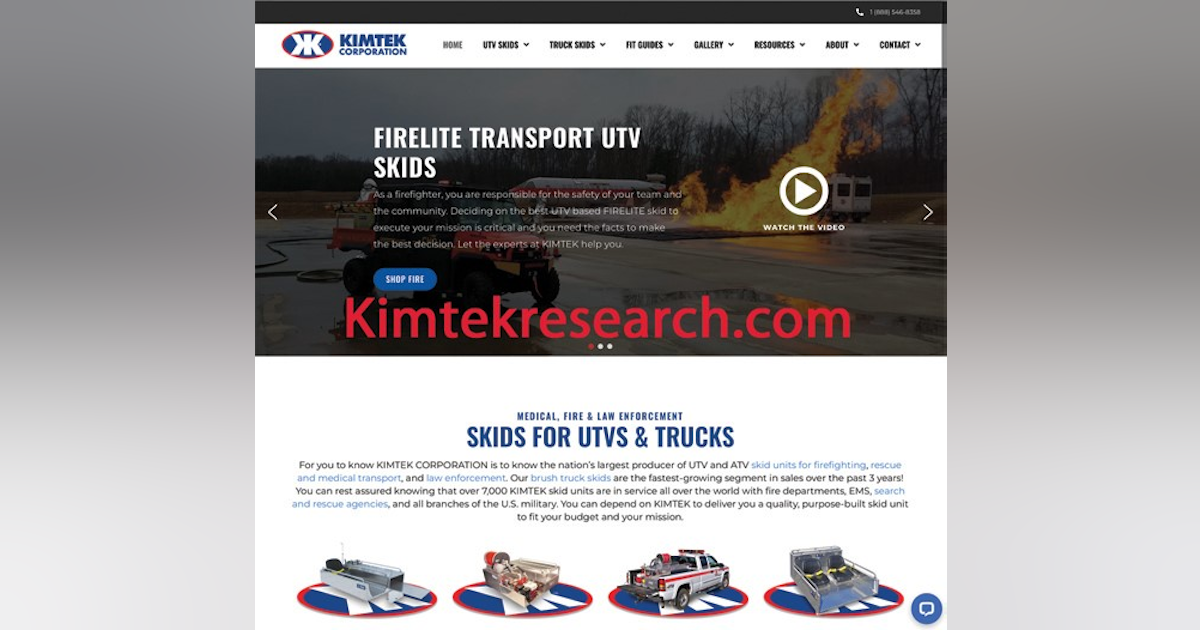 New KIMTEK Website Provides Faster, Simpler, Easier Access to UTV and Brush Truck Rescue Transport Products
ORLEANS, VT; February 23, 2022—KIMTEK Corporation today announced that its newly updated website, www.kimtekresearch.com, is fully operational. The enhancements were specifically aimed at streamlining searches of the company's growing product line and its many existing and emerging applications. KIMTEK's line of FIRELITE®, MEDLITE® and LEOLITE® transport skids, designed to fit utility vehicles and pick-up trucks used for first response in off-road, remote and urban areas, are custom-equipped for fires and medical rescue and law enforcement personnel. Featuring easy-to-find links to KIMTEK products that coordinate with the various manufacturers of these vehicles, the new website makes it quick and easy for users to navigate through the many custom options available to first responders.
Founder and President of KIMTEK, Kimball Johnsonsaid of the new website: "New applications for our skid units are found almost weekly, as are ways to adapt them for use in the field. We are very pleased that users of our website can now find exactly what they need, as well as links to what they might want in the future, even more quickly and intuitively at http://www.kimtekresearch.com".
About KIMTEK Corporation
KIMTEK Corporation is the largest producer and marketer of ATV/UTV specific skid units for public safety agencies in the United States. all branches of the military, the National Park Service, numerous NASCAR tracks, sports complexes, schools, universities and in several countries around the world. KIMTEK Transport Skid Units are made in the USA. Founded in 1984 as a research and development company dedicated to advancing life safety technologies in the fire sciences, KIMTEK Corporation manufactures and markets a full line of FIRELITE and MEDLITE carrier units for UTVs and service pickups emergency. For more information, please contact KIMTEK at 888-546-8358 or visit www.kimtekresearch.com.