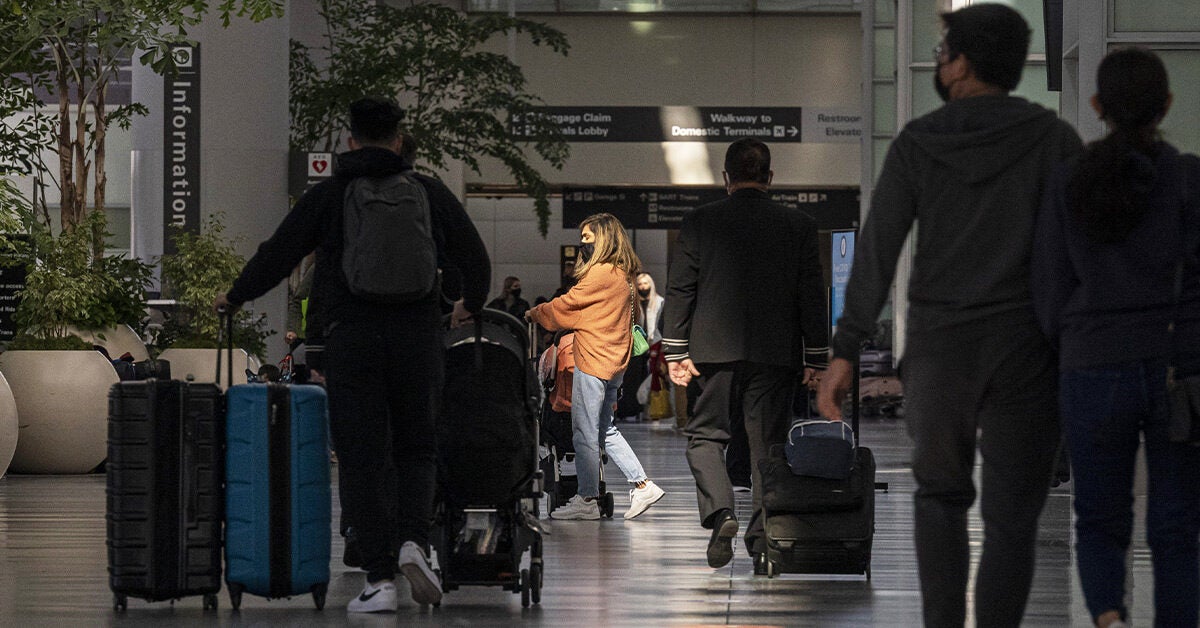 CDC extends mask mandate for public transportation until May 3
Face masks will no longer be mandatory on flights within Europe from May 16.
The European Union Aviation Safety Agency (EASA) and the European Center for Disease Prevention and Control (ECDC) announced the change as many European countries eased pandemic restrictions.
The agencies stressed that face masks remain an important tool in preventing the spread of the coronavirus.
Face masks will no longer be mandatory on flights in Europe from May 16, the European Union Aviation Safety Agency (EASA) and the European Center for Disease Prevention and Control (ECDC) announced on Wednesday. .
"From next week, face masks will no longer need to be mandatory on air travel in any case, largely aligning with changing requirements from national authorities across Europe for public transport. ", EASA Executive Director Patrick Ky said in a statement. statement.
However, some airlines may continue to require masks on their flights, the agencies said. Additionally, they asked airlines to encourage travelers to wear masks on flights to or from areas with public mask policies.
It comes as a growing number of European countries have lifted pandemic restrictions.
The United States Centers for Disease Control and Prevention (CDC) has extended its federal mask mandate for public transportation to May 3, but a federal judge overturned that order on April 18.
The Department of Justice has announced that it will appeal the court's decision after the CDC said the warrant "remains necessary for public health."
Although face masks are no longer mandatory on flights in Europe, ECDC director Andrea Ammon stressed that they remain an important public health tool.
"Although mandatory mask-wearing in all situations is no longer recommended, it is important to keep in mind that along with physical distancing and good hand hygiene, it is one of the best methods to reduce transmission," she said.
The ECDC advises passengers who are coughing or sneezing to "strongly consider" wearing a face mask while traveling.
Additionally, immunocompromised or otherwise vulnerable people should wear a face mask for protection, ideally an FFP2/N95/KN95 type mask, the ECDC said.
When the CDC extended its mask mandate in April, Dr. John Segretihospital epidemiologist and medical director of infection control and prevention at Rush University Medical Center in Chicago, said he was not surprised, given the rise in coronavirus cases at the time.
"The cases are at very low levels, but they are increasing a bit," he said. "So people say, 'Let's wait and see what happens in the next two weeks before we make any wholesale changes. ""
As the Omicron wave waned, many US state and local authorities ended policies requiring people to wear masks in indoor public places.
However, Philadelphia reinstated his indoor mask mandate in April as coronavirus cases surged in the city. This policy has since ended.
With face masks no longer required on public transport on many flights, people may face a higher risk of COVID-19 when traveling – exactly how much depends on the level of community spread and many other factors.
"Some people will accept this risk and take all steps to protect themselves – that is, being fully vaccinated and wearing an N95 mask – [while] others with a different risk tolerance may not be comfortable," said Dr. Dean Blumbergpediatric infectious disease expert at UC Davis Health.
He recommends that people who choose to wear an N95 mask — and aren't having it tested as a medical professional — perform a seal verification when they put on their mask.
Segreti expects that even without a mask mandate, a fair number of people will continue to wear masks on airplanes and other public transportation for some time.
"Increasingly, people are going to have to do their own risk assessment and decide what makes sense for them," he said.
This risk assessment includes consideration of their own health.
Those who are immunocompromised or have risk factors for serious illness with coronavirus infection — such as diabetes, heart disease or smoking — may want to continue wearing a mask in public spaces, Segreti said.
Wearing a mask can also help protect vulnerable people around you, he said, such as the elderly and those who are immunocompromised.
The amount of coronavirus spreading in a community is a key risk factor, but the risk also depends on other factors related to the type of public transport you will take.
"You have to keep in mind: how many people are in the space, how big is the space, how is the ventilation in the space, and how long will you be there," Segreti said.
In general, smaller spaces with lots of people tend to be riskier than less cluttered and larger environments. But since the coronavirus can spread through the air, better ventilation can reduce this risk.
For example, airplanes tend to have good ventilation, Segreti said, which changes the risk assessment for travelers.
"If someone in the front of the plane has COVID and you're sitting in the back, you're probably not going to catch it," he said. "But if you're sitting one or two rows in front of someone with COVID, or sitting next to them, then you're more likely to get infected."