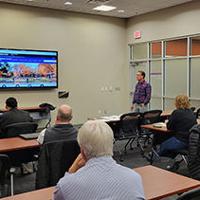 Active Transportation Group considers its online presence | Local News
Building a website and social media presence is next on the agenda of the Williams County Active Transportation Plan (WCATP) group, which met for an hour Tuesday in the East Annex County Conference.
WCATP is not a mass transit system, but a partnership between county agencies and municipalities to develop and connect county recreational amenities and use the amenities as a tool for economic development.
"Active transportation" means any type of non-motorized transportation, such as running, walking, biking, horseback riding, or even rollerblading.
The group, which has been around for about five years, has identified developing a master plan as a long-term goal and building a vibrant social media presence as a short-term goal. On Tuesday, WCATP organizer Todd Roth invited county chief information officer Jeremy Suffel to address the group on website development options.
Suffel explained that while the WCATP Group could pay setup fees plus annual hosting costs totaling thousands of dollars for specialized website services, a more cost-effective option is to create a page on the county's website. . Suffel said the county uses the CivicPlus platform, which specializes in designing websites for municipalities.
In addition to cost savings, Suffel pointed to the ease-of-use benefits of creating a page on the county's website, which gives group members more effective control over page design, timing and how it is updated and the links to which it is linked.
Group members noted that since the WCATP group does not yet have a dedicated budget, they preferred to develop a page on the county website.
Suffel suggested the group purchase a domain name and also seek pre-approval to add a page to the county website from the Williams County Commissioners. He also noted that the commissioners recently funded the county's web hosting costs for the next five years with US bailout funds, and that additional funding through this or other sources may be available.
Roth, who is also a county engineer, said he would make a formal request to the commissioners as early as next week.
"It gives us a start, at very little cost," he said.
He also asked for a few volunteers from the WCATP group to take over the website design process. The group agreed to meet again at 9 a.m. on Tuesday, April 19, in the East Annex Conference Room, 1425 E. High St., Bryan.